Get Crafty in New orleans
Fall awakens in many of us the feeling of new beginnings. As the air get crisp, I feel the heightened sense that I'm in the midst of change. At the same moment we can be drawn into reflection upon the previous events of the spring and summer and when looking back Sapphire Whisper's eyes and hearts rested upon the disastrous oil spill in the Gulf Coast and the aftermath for the future of this region. Healing the economic and environmental damage will still take some time: as there is still much more to be done. recovery will be a long uphill battle that tests courage and determination and calls for immediate and continuous attention.
Sapphire Whisper would like to shine the spotlight on New Orleans artisans and craft fashionistas that have banded together to showcase their talents and to help bring about change in their community. It's important for all of us to get involved to help Louisiana and the Gulf Coast reestablish the productivity and vibrancy of the ecosystem for the people and wildlife alike.
Handmade Louisiana is a group of artisans, musicians and small business owners. Creators and talented designers Amy Dutsch, Merry Rubins and Lisa Raspino started the community to create a safe place for artisans to gather, share ideas, business tips, and have a creative outlet together. Handmade Louisiana is a small group, but welcomes members who meet certain criteria (members must either currently reside in Louisiana, or if they do live out of state they must have spent much of their lives there. Also, members must be artisans, small business owners or musicians) Handmade Louisiana has worked together on the etsy site group: Team Shop, www.handmadelouisiana.etsy.com , here members have donated items to that shop to donate the profits to clean up the Oil Spill. Previously, the Team Shop sent a donation to the Gulf Restoration Network and subsequent money donations will be sent to New Orleans' very own Audubon Institute.
| | | | |
| --- | --- | --- | --- |
| Set of Four Glass Fleur De Lis Magnets by Embellished Bayou | Washcloth Cupcakes - Custom Unisex Gift by Brittany of Baby Deary | Southern States Shaped Magnet By Amy Dutsch of Mama's Little Monkeys | Badge Reel /ID Holder/ Keychain by Amy Dutsch |
| | | | |
| Fleur It Key Chain by Stephanie of Design Studio 504 | Save Our Coast Hand Stamped Greeting Card by Amy Dutsch | Kiki the Killer Whale Necklace: Sea Animal Necklaces & Key Chains : Design Studio 54 | Black Agate Heart Earrings by Kelly Lynn Designs |

Visit More from the Handmade Louisiana Team Shop
Audubon Nature Institute operates parks and museums in New Orleans dedicated to Celebrating the Wonders of Nature, including Audubon Zoo, Audubon Aquarium of the Americas, Entergy IMAX Theatre, Audubon Center for Research of Endangered Species, Freeport-McMoRan Audubon Species Survival Center, Wilderness Park, Woldenberg Riverfront Park, Audubon Park, and its newest attraction, Audubon Insectarium. Coordinated by Audubon Aquarium of the Americas, LMMSTRP is the primary responder for the state of Louisiana for rescuing, rehabilitating and releasing marine mammals (dolphins, whales and manatees) and sea turtles affected by the 2010 Gulf oil spill. Audubon and LMMSTRP are collaborating with NOAA, Louisiana Department of Wildlife and Fisheries and the U.S. Coast Guard to ensure that we have the most up to date information about the oil spill and any possible animals in its path.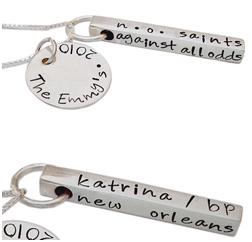 www.auduboninstitute.org

Handmade Louisiana also works on a local level, creating a community through monthly Craft a Long challenges on their blog but through the etsy shop, visitors from other states can enjoy the variety of designs as Handmade Louisiana is home to a wide array of talented artists. You can explore the inspiring collections, ranging from art and photography, bath and beauty, embroidery, graphic arts, home decoration, jewelry, fashion, childrens, vintage and more. There is a notable sense of state pride with many eye catching pieces in tribute to New Orleans, lovely Fleur De Lis interpretations and so forth. This year's Emmys' took note of one Handmade Louisiana member Charmie's hand stamped jewelry and charms. In honor of the fifth anniversary of Hurricane Katrina, Charmies necklace was included in the Emmy Swag Bag. The silver bar design is stamped on all four sides: Front: against all odds , Back: new orleans, Side 1: katrina/bp , Side 2: n.o. saints , also stamped a 5/8" Sterling Silver disc that reads: The Emmy's . 2010.

Many of their members sell on Etsy, Artfire, and other online venues as well as in local craft shows.
See listings of handmade louisiana member along with their links here
JMS Magazine Street Designs



Etco



SuperDuper



Mama's Little Monkeys
Amy Dutsch Handmade Louisiana Founder

cheese And Chocolate
Merry Rubins Handmade Louisiana Founder

Jewelry By Lisa
Lisa Raspino Handmade Louisiana Founder


One of the more vocal member of the Louisiana crafting community Mallory Whitfield... also know for her blog www.missmalaprop.com and online shop. In addition to her participation in Handmade Louisiana, Mallory has been donating a percentage of sales from her online store, www.shopmissmalaprop.com, and in person events to local non-profits who are working with oil spill cleanup and wildlife efforts. Currently donations have been given to help The Institute for Marine Mammal Studies with their wildlife rescue efforts related to the recent Gulf of Mexico BP oil spill disaster. Mallory has been writing about other artists, designers, and handmade and eco-friendly goods on her blog since 2006 and through her online shop she offers handmade and eco-friendly products by herself and other indie artists, many are also from Louisiana but a few are also from other states. Miss Malaprop is a great source for modern handcrafted accessories, home decor, jewelry, clothing and so much more with affordable flat rate shipping of $5.25 and free shipping on orders over $50. Mallory is actively involved in promoting and educating about eco related concerns and provides a resource of information on ways to be involved in oil spill relief efforts on her blog



Sara Sacks



Sofa City Sweethearts Jewelry

Tinymeat


Miss Malaprop



Sweet Olive Soapworks

Art By Mags
Mallory is also one of the founders of The New Orleans Craft Mafia. Some of their members are also in Handmade Louisiana, however the NOCM is a smaller group and is strictly for craft-related businesses in New Orleans. NOCM models itself after the original Craft Mafia in Austin, Texas, where a small group of talented ladies joined together to support each other in their crafty business endeavors. Interest grew and Craft Mafias have been popping up all over the world. The New Orleans Craft Mafia formed in June 2005 and consists of several independent artists in a variety of handmade media: jewelry, clothing, accessories, bath & body, home decor, and more. Check out today the amazing designs of its members Art by Mags, Bayou Salvage, Flambeaux Design Company, Greenkangaroo, Kristina Renee Jewelry , Miss Malaprop, She Loves Me Not Clothing, Sweet Olive Soap Works and Unique Products. After forming in 2005, the New Orleans Craft Mafia has gone through many changes forming just before Hurricane Katrina and the subsequent levee failures that ravaged New Orleans, the group has remained strong and is now poised for even bigger and better things with dedication to keeping the spirit of indie craft alive in the Crescent City as the sponsor of many craft events around town. www.neworleanscraftmafia.com
New Orleans is a vibrant artistic community rich in culture and creativity, that runs deep with soul and passionate spirit. Although they have been bombarded with many challenges over the past few years. it's inspiring to see the great art and sense of community growing and always shinning through.