Lord & Taylor Unveiled Its Annual Holiday Windows Last Night With A Performance By Fifth Harmony
NEW YORK, Nov. 15, 2013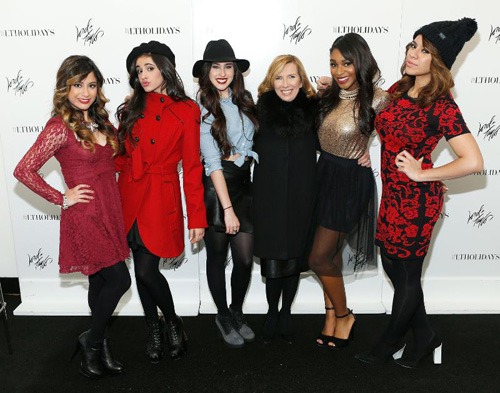 Lord & Taylor unveiled its annual world-famous holiday windows last night, with America's first teen girl group Fifth Harmony performing on Fifth Avenue at the retailer's flagship store.
"The annual holiday windows are our gift to New York City and I'm thrilled to share this special time of year with our customers" said Liz Rodbell, incoming President of Hudson's Bay Company Department Store Group, parent company of Lord & Taylor. "Next year marks the 100 th anniversary of our iconic Fifth Avenue building and as a New York City landmark, it's fitting that this year's holiday windows celebrate the city."
Fifth Harmony joined the retailer in unveiling the windows and performed two traditional holiday songs as well as two songs from their recently released EP, Better Together. The talented group of women were assembled by television producer and music industry executive Simon Cowell, and have quickly become one of the most-talked about acts in pop music. Following their performance, Fifth Harmony made an in-store appearance, where they took photos with customers and handed out signed copies of their new EP.
| | |
| --- | --- |
| | |
Lord & Taylor's hundred-year-old iconic building and annual holiday windows have acted as host in the creation of many memorable family traditions. This year, the windows are inspired by vintage New York City, capturing the city's history of tradition and heritage. The story begins with all of the excitement surrounding the holidays, from the celebratory preparations to the festive decor, including a scene from Lord & Taylor of customers shopping for gifts and getting ready for their holiday parties. Within the animated scene of the store, the classic, holiday shopping experience is brought to life, with aisles gleaming in enchanting ornamentation and an abundance of holiday gifts overflowing from the shelves. As you travel through the magically decorated store to the main floor, you will find Santa Claus interacting with children and families as they share their holiday wish lists. Men and women are fitted in their new holiday attire just in time to celebrate what was once a Lord & Taylor tradition of a leisurely afternoon lunch or teatime in the store's famous restaurant. Following lunch, the shoppers then head to the opera or theatre to be regaled by the arts. The final window concludes the story with a couple celebrating a holiday evening together, exchanging gifts, and sharing a good night kiss after putting the children to bed.
Throughout the day on Wednesday, November 13, the Fifth Avenue store hosted "Charity Day" to benefit God's Love We Deliver. Customers who made a $5 dollar donation to the charity received exclusive savings on almost everything, including cosmetics.
www.lordandtaylor.com
www.lt-insider.com
www.facebook.com/lordandtaylor
www.twitter.com/lordandtaylor