Treehouse Brooklyn
One of a kind clothing and accessories boutique
we are a small shop featuring independent and local designers and crafters. inside you'll find unique clothing, accessories and home furnishings, vintage and new, for the creative and community minded spirit. the majority of our designer works are handmade, one of a kind creations.
we also offer a craft library featuring books on fashion, architecture, art and craft. classes in a variety of disciplines are now in session. check the treehouse blog for details and Updates.
it has been our dream to bring designers like these together, friends both old and new, and to provide a space for the exchange of ideas and sharing of inspiration.
we look forward to hanging out with you in the treehouse!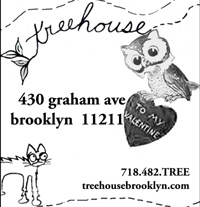 www.treehousebrooklyn.com
treehousebrooklyn.blogspot.com
treehousebrooklyn.etsy.com

Designers
We emphasize one-of-a-kind, locally designed and eco-friendly clothing, jewelry and accessories for Women, Men, and children. We also have a curated selection of vintage.
Our brands are always growing and revolving, but right now we feature over 40 designers, most of them from the Brooklyn vicinity.
Some of the brands we carry are:


Feral Childe
Bobbi
Hodge Podge
Sirius Lux
Becky Lee
Dear Birthday
Loyalty & Blood
A.S.I.S.
K.I.M.
Fame & Frippery
Kelly Lane
Species by the Thousands
Few and far between Vintage
just to name a few!



Store Hours and Location
treehouse* brooklyn
430 Graham Ave.
(Withers - Frost Sts.)
Brooklyn, NY 11211
(718) 482-8733
Tuesday - Sunday: 1:00 - 8:00pm
Some Mondays, call ahead

Sapphire Whisper Shopping Guide