Zachary's Smile
Womens Vintage and ready to wear
Since opening in the West Village five years ago, Zachary's Smile has offered a large, well edited, and reasonably priced collection of women's vintage clothing and accessories, as well as unique offerings from emerging designers. Today, with a second location in Noho and a popular house designed label that was one of the top 3 selling brands at Barneys Co-op last summer, ZS continues to grow. Three years after its conception, the house label has evolved into three distinctly different collections.
Zachary's Smile Features an in House label in addition to a selection of vintage clothing, accessories and Footwear


Remake / remodel: This is what put Zachary's Smile on the map and what makes them special. Portions of each garment are cut from an article of vintage clothing, making each piece unique.
White Label by Zachary's Smile: This new collection is constructed using fine textiles such as silks and woolens. It does not incorporate vintage fabric, but it is the more intricate of the three house labels and is often inspired by vintage looks.
9 Greenwich Ave. by Zachary's Smile: This collection of modern, easy sportswear is always made with new textiles.
Vintage: When it comes to their vintage collection, the focus is on great pieces rather than specific designers. The atmosphere in both locations is cheerful and welcoming, and the super friendly staff has been praised on a many a fashion blog. Clients include Chloe Sevigny, and Sarah Jessica Parker, who named Zachary's Smile her favorite NYC vintage shop in an issue of the Japanese magazine 'Spur'. Other accolades include 'Best Vintage Spot' from the Time Out New York Shopping Awards and 'Best Vintage Mix' from the NYC edition of Sheckey's Shopping guide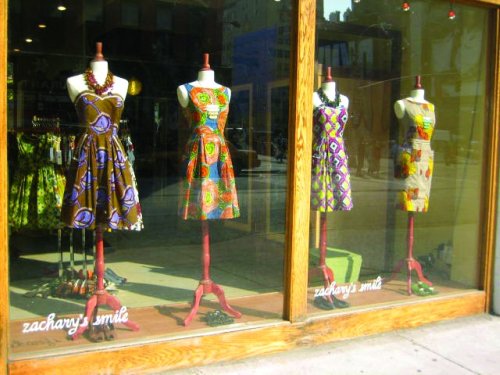 Store Hours and Locations
Zachary's Smile
9 Greenwich Avenue
New York, NY 10014
(212)924-0604

Monday - Saturday: 11:00am - 8:00pm
Sunday: 12:00pm - 7:00pm




Sapphire Whisper Shopping Guide