Capsule Market Square


What fantastic news! and just in time for the holidays! Now you can shop designers carried at the Capsule show at a pop up shop right in the heart of Soho
Explore the Capsule Market Square — the first-ever Holiday pop-up shopping event created by Capsule and BPMW Agency. An amzing selection of one-of-a-kind pieces, men's and women's fashion, accessories, home goods, art and furniture. There will be overstock, samples, current merch and special products. Come for the brands and stay for the surprises, bargains and treasures.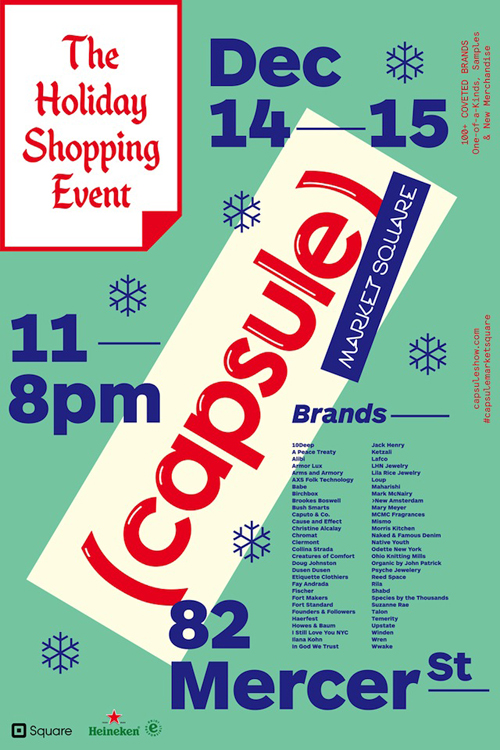 Check it out today at 82 Mercer Street

Designers Include:

10

Deep
A Peace Treaty
Alibi
Arms And Armory
AXS Folk Technology
Babe
Brookes
Boswell
Bush Smarts
Caputo & Co.
Cause And Effect
Christine Alcalay
Chromat
Clermont
Collina Strada
Creatures Of Comfort
Doug Johnston
Dusen Dusen
Etiquette Clothiers
Fay Andrada
Fischer
Fort Makers
Fort Standard
Founders & Followers
Haerfest Howes & Baum
I Still Love You NYC

Ilana Kohn
In God We Trust
Jack Henry
Ketzali
Lafco
LHN Jewelry
Maharishi
Mark McNairy
New Amsterdam
Mary Meyer
MCMC Fragrances
Mismo
Morris Kitchen Naked & Famous Denim
Native Youth
Odette New York
Ohio Knitting Mills
Organic By John Patrick
Psyche Jewelery
Reed Space
Rila Shabd
Species By The Thousands
Suzanne Rae
Talon
Temerity
Upstate
Wren
WWAKE
About Capsule
Capsule is the fashion and lifestyle trade event that fuses the best high-end, progressive brands and directional, independent designers. Presenting a highly-edited assemblage of collections from around the world, Capsule reflects the look of the current consumer and presents a fresh approach to the fashion tradeshow.
From high to low, bold to subtle, impulsive to thoughtful, the beauty of Capsule is in the mix. Constant across all Capsule participants is a premium level of ideas, overall aesthetic, styling, fit, design and brand messaging. Only the world's most innovative and sought-after brands are invited to participate.
Capsule takes place 12 times a year in New York, Paris, Berlin and Las Vegas.